Getting Your House In Order workshops 2022-23
Please see event information for individual session details/dates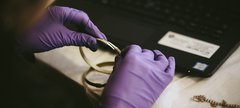 The Covid-19 pandemic has put many museums in a financially precarious situation. In extreme cases, if not now possibly in the future, they may be looking at insolvency, merger with another museum, splitting up the collection or putting it in a separate trust.

The actions required to manage the collections in order for these to happen responsibly are the same as how any museum collection should be managed to make it accountable and useable in any circumstances – but these scenarios add an extra pressure or urgency to make sure your collections documentation is adequate.

Using the framework of Spectrum 5.0 and its procedures, and referencing the Museums Association's guidance 'Museums Facing Closure: Legal and Ethical Issues' this series of workshops will focus on the planning and work required for museums to get their collections documentation in order.
These sessions are not just for museums facing these significant changes, but are also a good refresher for museums wanting to tighten up their documentation, and a reminder of why this work is necessary

Led by Lindsay Duncan, Outreach Officer at Collections Trust, these online workshops are open to trustees, managers, beginners and volunteers from museums in the North West which are Accredited or formally working towards Accreditation.
Within the booking process you can indicate if your museum is or could be facing one of these scenarios, and you will be prioritised for a place.
This programme is being run jointly by Museum Development North West (MDNW), Museum Development Yorkshire (MDY) and Museum Development North East (MDNE).
Please note the booking links below are for museums in the North East. If you are based in Yorkshire or the North West please use the link advertised through your local Museum Development provider.
All session will be held online
1. Introduction to Spectrum 5.0
9th June 10am-12pm
https://www.eventbrite.co.uk/e...
2. Ownership of collections
21st July 10am-12pm
https://www.eventbrite.co.uk/e...

Documentation histories
7th September 10am-12pm
https://www.eventbrite.co.uk/e...

Dealing with objects with uncertain ownership
13th October, 10am-12pm
https://www.eventbrite.co.uk/e...

Audit
10th November 10am-12pm
https://www.eventbrite.co.uk/e...

Borrowing and lending
7th December 10am-12pm